SILKSCREEN AND ENCAUSTIC MONOTYPE

:

Discovery though Nature, Structure, and Spontaneity
Co-taught by Paula Roland and Jeff Hirst, Hirst Studio, Chicago
September 5-8, 2018 10-4 pm
Hirst Printmaking Studio
Chicago, IL
Cost:
$795 plus $45 material fee
Paula Roland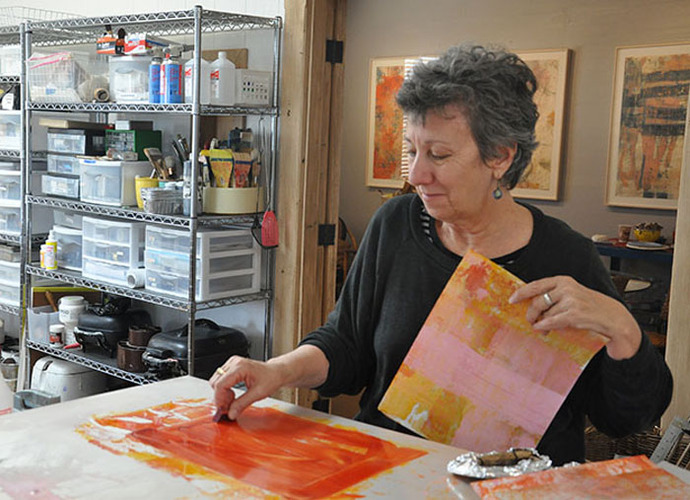 Jeff Hirst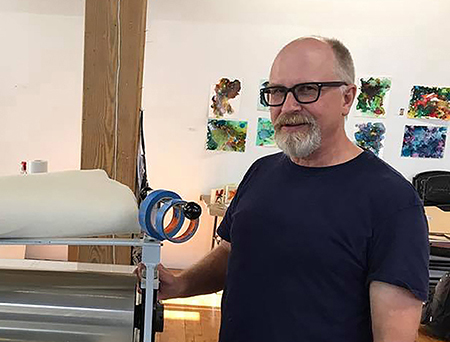 ​​EMBRACING THE UNEXPECTED:
Discovery though Nature, Spontaniety, and Structure
September 5-8, 2018 10-4 pm
Hirst Printmaking Studio
Chicago, IL
Cost:
$795 plus $45 material fee
Paula Roland and Jeff Hirst guide the group through fun and informative explorations and collaborations that help us create outside of our habitual ways of working. iPhone camera images in and around the studio building area will be collected, documented and processed to produce information that will then be silkscreened or mono printed with encaustic HOTbox™. By juxtaposing and layering images intuitively, new meaning and context develop. We embrace these interactions and find a fluency between materials and processes, the organic and geometric, the environment, society, and change, and how these intersect or differ.
Utilizing Chicago's resources, we observe how architecture, ornament, nature's elements and patterns, and urban grit interact to form a synergistic result. On Friday evening the group will attend the Museum of Contemporary Art in Chicago and view one of the featured exhibitions. Back in the studio, we will present a slide discussion that draws attention to artists that incorporate both structured and natural forms in their work, and those who utilize fresh formats and presentation ideas that support their works' meaning.
We create both individual and group works. Personal attention will be given to each artist and group discussions will respond to the group's work as a whole. We will also address ways that silk screen and monotype can be incorporated into your studio practice back home.
Artist-Students will leave with an armload of finished pieces, new observations and skills, and much inspiration!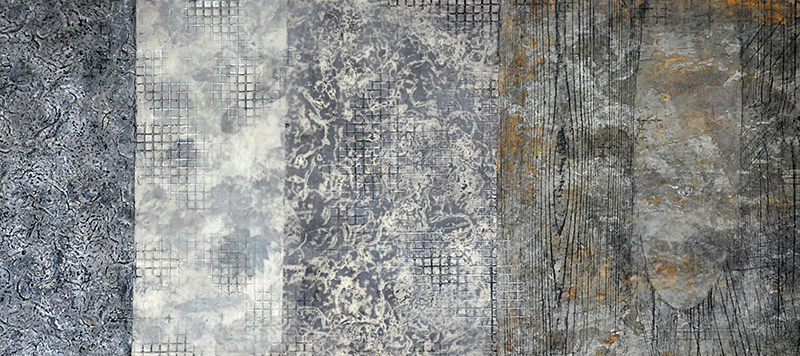 Roland, New Forest Floors, encaustic monotypes, graphite frottage, and beeswax on paper and panel, 30" x 60
Roland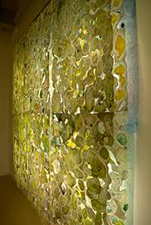 Roalnd, Disappear, 12 layered encaustic monotypes and fluorescent lights, 78" x 80"
​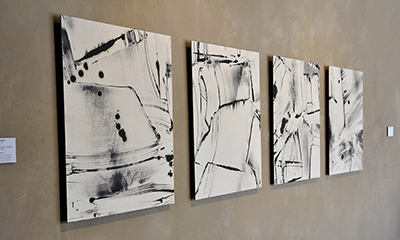 Roland, Swish I-IV, encaustic monotypes on Dibond, 20" x 16" each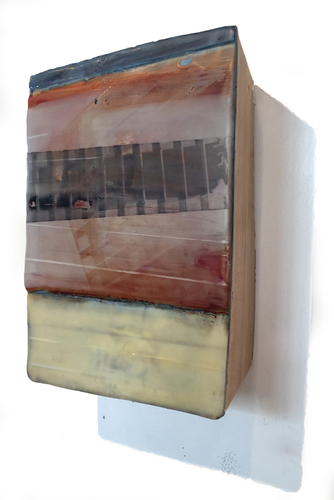 Hirst, Air & Steel, #1, encaustic and silkscreen, 2017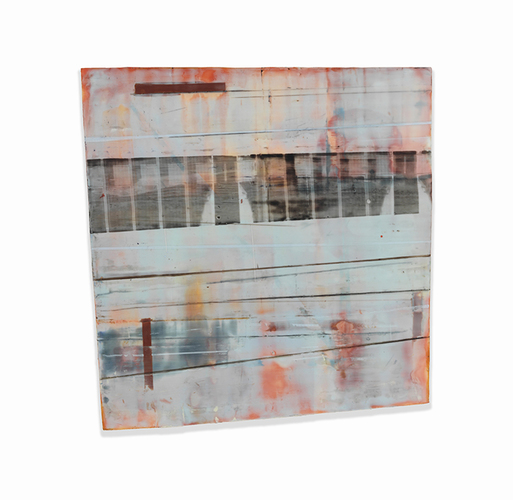 Hirst, Parallel Points, encaustic and silkscreen, 2017

Paula Roland, MFA, is a life-long artist and teacher. She received a BA from Dominican College and an MFA from the University of New Orleans. She is the recipient of many fellowships, grants and awards including one from the National Endowment for the Arts. Roland has twice been awarded fellowships from the Santa Fe Art Institute where she worked closely with artists Lynda Benglis and Elizabeth Murray, and twice from the Virginia Center for Creative ARts, including their Fellowship Abroad Program in France. She has exhibited widely in the US, in France, and has works held in many public collections including American Embassies in Uganda and South Africa.

In 1997 Roland began teaching the then little-known process of Encaustic Monotypes. Paula is considered a pioneer of wax printmaking and wax works on paper in general. Her personal works utilize encaustic prints in unusual and exciting ways, including back-lit paper installations. Roland has 30 years experience teaching art in colleges and universities and as a guest artist teaching nationally and abroad. She has been an invited presenter and teacher at the International Encaustic Conference since its beginning (2007 - 2015). Her works are included in many books and articles on encaustic and experimental printmaking, including Joanne Mattera's seminal book, The Art of Encaustic Painting. Please visit Paula's art website www.PaulaRoland.com
Jeffrey Hirst has exhibited his work throughout the United States since the 1987. His work has been showcased at national and international venues including the Minneapolis Institute of Art; The Holter Museum, Helena, Montana; McLean Project for the Art, McLean, VA; Addington Gallery, Chicago, IL; McKinney Contemporary, Dallas, TX and Palazzo Dell' Annunziata, Matera, Italy.
He has been a visiting artist at universities around the United States conducting encaustic and printmaking workshops and has taught encaustic classes at Grand Maris Art Colony in MN, Arrowmont School for the Arts in TN, Center for Contemporary Printmaking in CT, Cullowhee Mountain Arts in NC, and Truro Center for the Arts in MA. Hirst also is the owner of Hirst Printmaking, a Printmaking shop specializing in Intaglio, Screenprinting, and Experimental Approaches towards combining printmaking and encaustic.
Hirst received his MFA from Louisiana State University and BFA from the University of Minnesota. He is a recipient of a 2009 Minnesota State Arts Board grant and a fellowship residency to the Ballinglen Arts Foundation in Ireland. Hirst is represented by Addington Gallery in Chicago and Brandt-Roberts Galleries in Columbus, OH. His work is in numerous public and private collections including Arcstone Technologies, Grant Thornton International, Great River Energy, Southern Graphics Council, and SAP America.

Jeff lives and works in Chicago.
There are 3 ways to register:

1) call Jeff at 612-414-3030 and register over the phone.

2) register using Paypal and use the account: jeff@jeffreyhirst.com

3) send a check to the studio with the workshop listed in the memo.

​ The checks are made out to Jeff Hirst.
Please send to:
Jeff Hirst
1200 W. 35th Street 3A3120 mailbox 150
Chicago, IL 60609


ACCOMMODATIONS NEAR HIRST PRINTMAKING

CLUB QUARTERS-Central Loop
111 West Adams Street
Chicago, IL 60603
reservations 844-236-1341
Club Quarters has great rates and is located across the street from the Art Institute of Chicago.

OHIO HOUSE
600 North LaSalle Street
Chicago, IL 60654
reservations 312-943-6000
The Ohio House has free parking at great rates.

Airbnb
Chicago is full of great neighborhoods!
What neighborhoods to stary in:
Pilsen, South Loop, Loop, Old Town, Wicker Park, Ukrainian Village, Logan Square

CTA: You don't need a car to get around the city as the mass transit is excellent. You can take the CTA "L" and get close to the studio.
How to get to Hirst Studio: Take the Blue Line to UIC stop and then take a number 8 bus to 35th and S. Halsted. The studio is 5 blocks west on 35th street from 35th and S. Halsted.

Ridesharing services are easy to use in the city.
It's easy to get and Lyft or an Uber to and from the studio.