Dorothy Cochran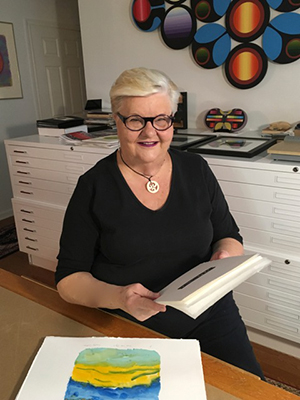 SOLARPLATE ETCHING, YUPO AND BEYOND
June 26-28, 2017 10-4 pm
Hirst Printmaking Studio
Chicago, IL
Cost: $600 plus $45 material fee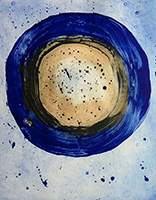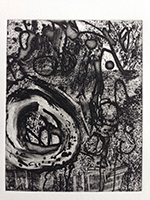 During this three-day workshop we will work with Solarplates, which have a steel base and are coated with a light sensitive polymer layer. Using UV light to expose the images, the plates are then "etched" with a tap water wash out, cured to harden and ready for printing. While the actual process is simple, the variations on how to create the image will be a major part of the learning experience. Although photographs are a natural go to with this process, participants are also encouraged to use their drawings, collages, photocopies and digital composites for making the transparent film used in creating the solarplate. Another exploration of the process will be painting and drawing directly on the plate surface with light blocking ink to create a free and spontaneous approach and yet another alternative to imaging.
Participants will then adventure to inking the plates both as intaglio and relief. Methods of viscosity inking, wiping a la poupee and multiple plate layering for depth and transparency will be demonstrated and experienced. With several plates in hand, we will then challenge the typical square and rectangular format by introducing Yupo as a plate strategy. Cutting either the plate itself or the Yupo sheet into shapes will expand both the size of the image, act as an additional plate for color exploration and enlarge the dynamics of the print's composition.
This exciting three-day journey will include discussion of a fine printmaking papers, including washi, excellent sources to obtain materials, hand-outs and a clear understanding of how to proceed in your own studio. Both individual and group critiques are integral part of the workshop.
Dorothy Cochran is an accomplished New York area based printmaker, acknowledged for her expertise and broad command of multiple print methods. She is represented in both museum and corporate collections and teaches classes and workshops around the country. Ms. Cochran has an MFA from Columbia University and currently teaches at the Montclair Art Museum in NJ.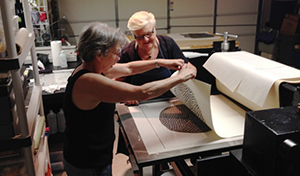 There are 3 ways to register:

1) call Jeff at 612-414-3030 and register over the phone.

2) register using Paypal and use the account: jeff@jeffreyhirst.com

3) send a check to the studio with the workshop listed in the memo.

​ The checks are made out to Jeff Hirst.
Please send to:
Jeff Hirst
1200 W. 35th Street 3A3120 mailbox 150
Chicago, IL 60609


ACCOMMODATIONS NEAR HIRST PRINTMAKING

CLUB QUARTERS-Central Loop
111 West Adams Street
Chicago, IL 60603
reservations 844-236-1341
Club Quarters has great rates and is located across the street from the Art Institute of Chicago.

OHIO HOUSE
600 North LaSalle Street
Chicago, IL 60654
reservations 312-943-6000
The Ohio House has free parking at great rates.

Airbnb
Chicago is full of great neighborhoods!
What neighborhoods to stary in:
Pilsen, South Loop, Loop, Old Town, Wicker Park, Ukrainian Village, Logan Square

CTA: You don't need a car to get around the city as the mass transit is excellent. You can take the CTA "L" and get close to the studio.
How to get to Hirst Studio: Take the Blue Line to UIC stop and then take a number 8 bus to 35th and S. Halsted. The studio is 5 blocks west on 35th street from 35th and S. Halsted.

Ridesharing services are easy to use in the city.
It's easy to get and Lyft or an Uber to and from the studio.
---