​​
WORKING LARGE: MARK-MAKING, PERSONAL VISION, AND ART EXPO CHICAGO
September 14-17, 2017 10-4 pm
Hirst Printmaking Studio
Chicago, IL
Cost: $680 plus $45 material fee
Paula Roland guides the group through fun and informative exercises and collaborations that help us create outside of our habitual ways of working. We begin with inner-focused brush and ink works inspired by Zen philosophy. We then transition to over-size tools such as mops, brooms, and large brushes working with ink on paper that covers the entire studio floor. Our initial goal is emotive mark-making that frees us to work large and expands our mark-making vocabulary. We learn to take chances and respond to our surroundings. These ink works are the basis for the following days' activities.
Day two includes a group excursion to Art Chicago, the iconic art fair. We use a phone camera or sketchbook to record images and ideas that inspire us and may be incorporated in our workshop pieces through abstraction.
Back in the studio for days 3-4, we discuss our observations and review the fundamentals of art and composition. Using selections from our ink paintings as a base, we add color, value, and line with mixed media drawing, collage, encaustic painting, or encaustic printing on the Roland HOTbox™. Our individual and group discussions highlight strengths and personal processes with and eye toward the work's content and enhancing one's studio practice. Artist-Students will leave with an armload of finished pieces, new observations and techniques, and much inspiration!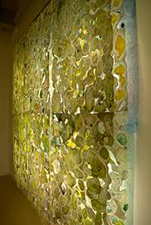 Paula Roland
EXPLORING ART EXPO 2017
September 15, 2017 10-4 pm
Navy Pier
Chicago, IL
Cost: included in class cost
​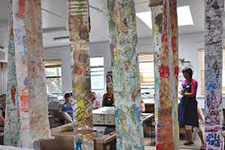 ​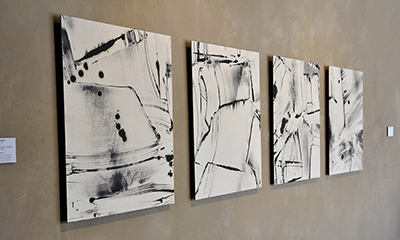 Paula Roland, MFA, is a life-long artist and teacher. She received a BA from Dominican College and an MFA from the University of New Orleans. She is the recipient of many fellowships, grants and awards including one from the National Endowment for the Arts. Roland has twice been awarded fellowships from the Santa Fe Art Institute where she worked closely with artists Lynda Benglis and Elizabeth Murray, and twice from the Virginia Center for Creative ARts, including their Fellowship Abroad Program in France. She has exhibited widely in the US, in France, and has works held in many public collections including American Embassies in Uganda and South Africa.

In 1997 Roland began teaching the then little-known process of Encaustic Monotypes. Paula is considered a pioneer of wax printmaking and wax works on paper in general. Her personal works utilize encaustic prints in unusual and exciting ways, including back-lit paper installations. Roland has 30 years experience teaching art in colleges and universities and as a guest artist teaching nationally and abroad. She has been an invited presenter and teacher at the International Encaustic Conference since its beginning (2007 - 2015). Her works are included in many books and articles on encaustic and experimental printmaking, including Joanne Mattera's seminal book, The Art of Encaustic Painting. Please visit Paula's art website www.PaulaRoland.com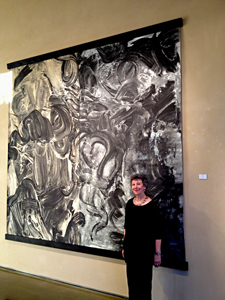 There are 3 ways to register:

1) call Jeff at 612-414-3030 and register over the phone.

2) register using Paypal and use the account: jeff@jeffreyhirst.com

3) send a check to the studio with the workshop listed in the memo.

​ The checks are made out to Jeff Hirst.
Please send to:
Jeff Hirst
1200 W. 35th Street 3A3120 mailbox 150
Chicago, IL 60609


ACCOMMODATIONS NEAR HIRST PRINTMAKING

CLUB QUARTERS-Central Loop
111 West Adams Street
Chicago, IL 60603
reservations 844-236-1341
Club Quarters has great rates and is located across the street from the Art Institute of Chicago.

OHIO HOUSE
600 North LaSalle Street
Chicago, IL 60654
reservations 312-943-6000
The Ohio House has free parking at great rates.

Airbnb
Chicago is full of great neighborhoods!
What neighborhoods to stary in:
Pilsen, South Loop, Loop, Old Town, Wicker Park, Ukrainian Village, Logan Square

CTA: You don't need a car to get around the city as the mass transit is excellent. You can take the CTA "L" and get close to the studio.
How to get to Hirst Studio: Take the Blue Line to UIC stop and then take a number 8 bus to 35th and S. Halsted. The studio is 5 blocks west on 35th street from 35th and S. Halsted.

Ridesharing services are easy to use in the city.
It's easy to get and Lyft or an Uber to and from the studio.
---