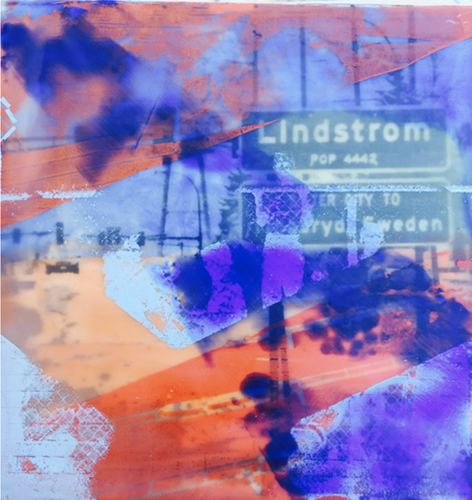 SILKSCREEN ONTO ENCAUSTIC AND/OR ACRYLIC
McColl Center - Charlotte

February 17 - 19, 2023
Join me for Screen Printing onto Encaustic and Acrylic workshop. This three-day intensive will cover the unique process of screen printing pigment sticks, tinted gesso, and screen printing inks below, into and onto encaustic and acrylic surfaces. A simplified approach towards screen printing makes this process easy to grasp and unites graphic print elements with painting surfaces and motifs.

This is a unique opportunity to learn the silkscreen process if you work with acrylic. It's very direct and spontaneaous!

Friday, February 17 - Sunday, February 19, 2023 at 10:00am - 5:00 pm (1 hour lunch break)
The class will focus on creating images that incorporate multiple printing passes from both fixed screen printing stations to freeform printing approaches. Artists have the option to work with either encaustic or acrylic and if they prefer may try both mediums. Some experience with encaustics is required for those specifically interested in this process, but participants can be new to screen printing.


About Jeffrey Hirst
Jeffrey Hirst has exhibited his work throughout the United States and Europe since 1987. He has his MFA from Louisiana State University and BFA from the University of Minnesota. His work has been showcased at national and international venues including the Minneapolis Institute of Art; McLean Projects for the Arts, VA; McKinney Contemporary, Dallas, and Bienal do Douro, Portugal. Hirst is a recipient of the numerous grants and was awarded a fellowship at the Ballinglen Arts Foundation in Ireland where he has gone on four residencies. Hirst is represented by Addington Gallery in Chicago and Brandt-Roberts Galleries in Columbus, OH and his work is in numerous public and private collections in The U.S., Portugal and Ireland. In 2021, Hirst co-founded Catalyst Art Lab and teaches encaustic and printmaking workshops across the U.S. Canada, Mexico and Ireland
.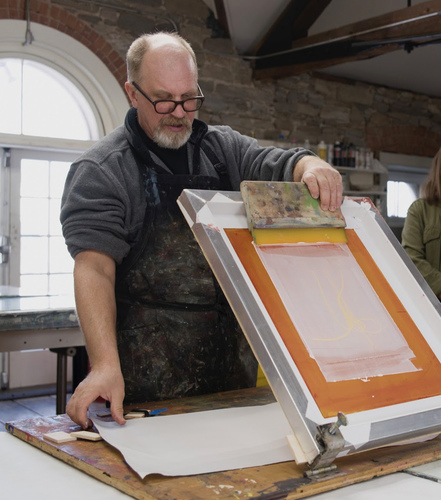 SILKSCREEN ONTO ENCAUSTIC- Printmaking
with Jeffrey Hirst
​
What is Screenprinting onto/ into Encaustic?
Screenprinting onto/ into Encaustic is a workshop that covers the unique process of screenprinting pigment sticks, tinted gesso, and screenprinting inks below/into/ onto encaustic surfaces. A simplified approach towards screenprinting makes this process easy to grasp and unites graphic print elements with painting surfaces and motifs. The class will focus on creating images that incorporate multiple printing passes from both fixed screenprinting stations to freeform printing approaches. The class is designed for students who have encaustic experience although no screenprinting experience is necessary.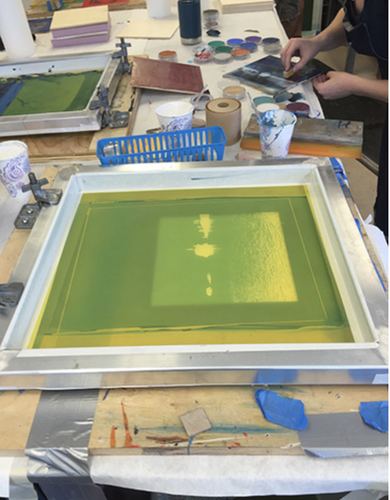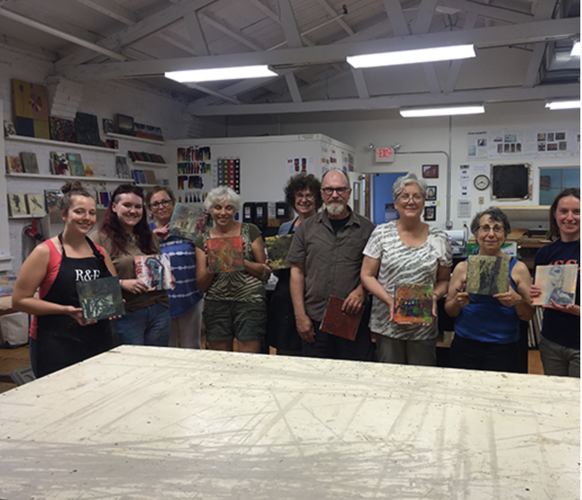 SILKSCREEN ONTO ENCAUSTIC
FEBRUARY 17 - 19, 2023
9am-4pm
$650