TEACHING
>
ONLINE CLASSES
> Paula Roland & Jeff Hirst: BRAVE SPACE: Working Large with Mixed Media October 12-26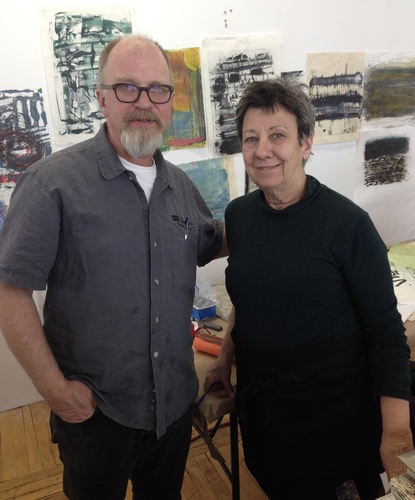 Paula Roland and Jeff Hirst

BRAVE SPACE: Working Large with Mixed (water-based) Media

Oct 12, 15, 19, 22, 26
Mornings 11- 1 PM Central & Afternoons 3-5 PM Central

The class is open to all



Large-scale Intuitive Painting and Drawing



Objectives:
Getting and staying loose

Developing intuition and new approaches to creating

Emphasis in process over product

Working large, maneuvering through space using the whole body and
unusual tools and materials
Develop rich surfaces, content, and strategies that carries over to future works

This workshop brings together the team of Paula Roland and Jeff Hirst, two artists each with many years of professional experience who often collaborate on teaching. Both use paper extensively and have designed a new workshop that merges paper and water-based media on a large scale. Paula and Jeff focus on physicality and materials in their work with an emphasis on intuitive explorations that ultimately lead to the development of personal or desired content. Although this will be an excellent introduction to abstraction, imagery of sorts may show up.

The workshop will feature working large on paper --taking your work to another scale. The class is broken into two sections that focus on painting and drawing with mixed (water-based) media and unorthodox materials. The first component is designed as a discovery-in-process work with intuition as a driving force. Artists will be given parameters to use with the idea that ideas about developing work will change and evolve in the process. The second component in the class involves recycling art and other materials to arrive at new work(s). Both involve play, experimentation, and approaches to freely move through space to interact with the large work's surface.

This online class will meet for five days, spanning15 days.
The class will feature demos, small groups discussions of ideas and concepts; Slides of other artists that use paper to enlighten and inspire; a guest artist presentation (to be announced); and a private, 15 minute session with Paula and Jeff for feedback on your work. Following the class will be an online exhibition of work created during the workshop.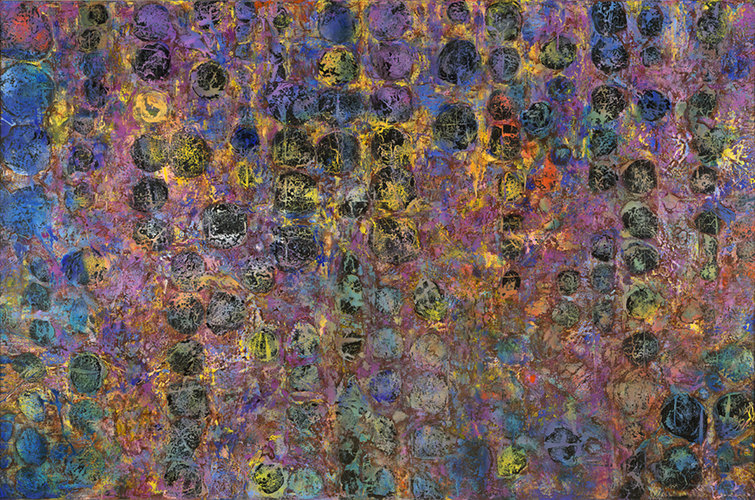 Roland, Cosmic Debris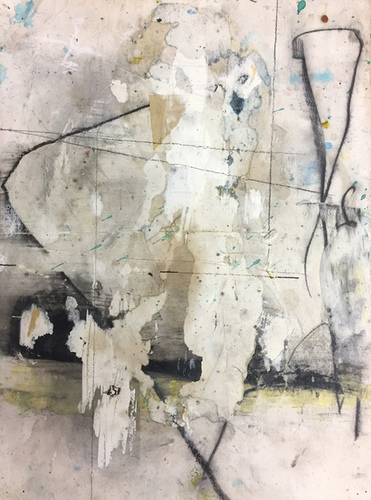 Hirst, Distance Here nor There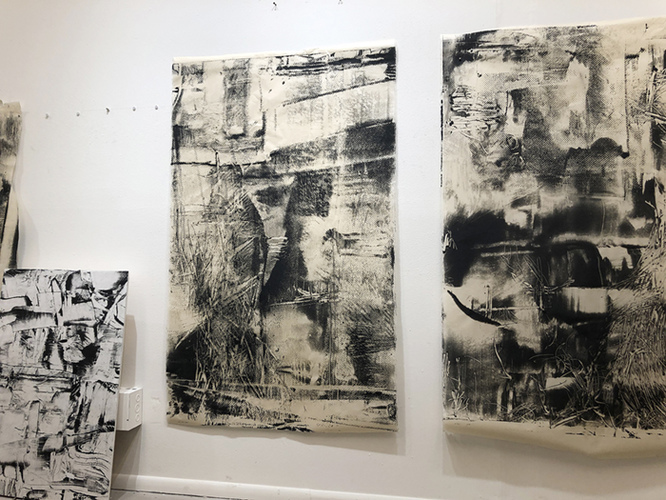 Roland, Untitled monotypes in progress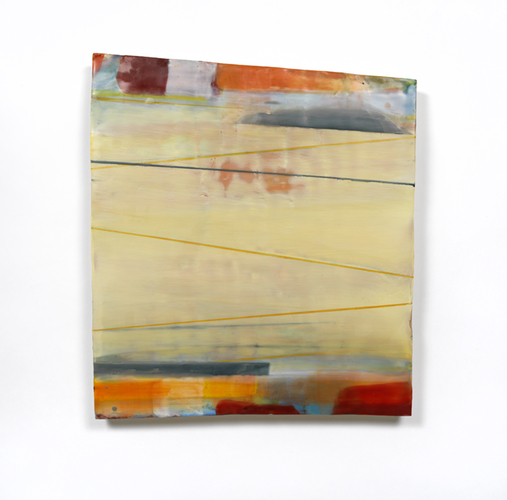 Hirst, Parallel Lines
The workshop dates are:
Monday, October 12, 11-1 PM Central and 3-5 PM Central

Thursday, October 15, 11-1 PM Central and 3-5 PM Central

Monday, October 19, 11-1 PM Central and 3-5 PM Central

Thursday, October 22, 11-1 PM Central and 3-5 PM Central

Monday, October 26, 11-1 PM and 3-5 PM Central

On either Wednesday 10/ 14 or 10/21 a private 15 minute review
Class Format:
Morning sessions (11-1 PM Central) with both artists. Instruction includes: demos on approaching the substrate, structure for layering and intuitive application, possibilities with materials; making/finding tools; mark-making; use of composition, color, and value

On all 5 days, class will reconvene from 3-5:00 PM Central for questions, follow-ups and discussions

Small group breakout rooms will be utilized for discussing work, course material, and contemporary issues

On either 10/ 14 or 10/21 we will meet with each artist for (1) 15minute session for feedback on your work.

A soon to be annouced visiting artist


Supplies
Paper needed is large, heavy, sturdy paper (that will take water media, sanding, etc):
Arches en tout cas roll, 280g, 52.5' x 10 yd
or Stonehenge (AKA Legion Stonehenge) roll, 250g, 50" x 10yd
or 6- 12 sheets Stonehenge 30" x 44" (you would work on 2 taped together)

If you cannot staple paper to your wall we can recommend other options.

Options is you are short on wall space
You can also use a large sheet of insulation board to mount your drawings into and work on this surface. It's lightweight and easy to move around. The board is called Owens Corning FOAMULAR and the ½ or ¾" will be fine. There also are other insulation boards are Hole Depot or Lowes. These are inexpensive alternatives.

Acrylic gesso (by the gallon is cheaper) Or white house paint
Assortment of large brushes (3-5") and smaller brushes
Fluid acrylic colors (or substitute house paint or tempera paint)
or house paint (colors)

Acrylic medium
Black India ink and colored inks (optional)
Graphite drawing sticks, prismacolors (optional)
Compressed Charcoal
DryDex Spackling, Plaster, or Sheetrock pre-mixed material.
R&F Pigment Sticks (3 or 4 colors) and/or wax paint sticks
Oil pastels, paint markers, etc
Sand paper, scrapers, rags; Messermeister tool
drop cloth or tarp to protect wall/floor

Optional large tools: a paint roller & pan; Squeegee,
Other materials found around the house or hardware store

$775 To register click on the PayPal button below.
Please send any questions to jeff@jeffreyhirst.com
If you have credit from a Paula Roland workshop, contact Paul directly. paularoland@yahoo.com