DISCOVERY & RELEASE: PRINTMAKING WITHOUT A PRESS
NOVEMBER 2, 9, 16, 23 1PM - 2:30 PM CENTRAL
CLASS COST FOR FOUR SESSIONS $525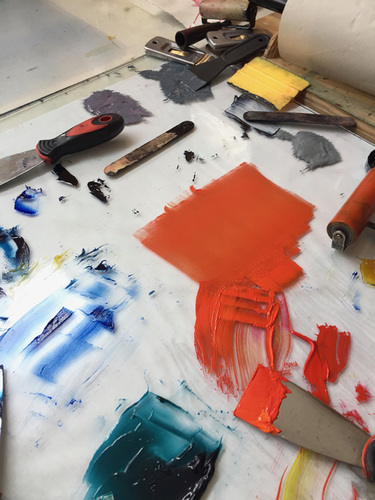 Have you wanted to try Printmaking, but don't have a press?
Are you looking for a way to shake up your current work?

Regardless of what medium you work in, this class will help you:
· Create new and engaging imagery
· Combine ideas with printmaking and other mediums
· Expand your problem-solving skills
· Add unique mark-making to your surfaces
· Understand color relationships through overprinting


The newly revised Printmaking without a Press workshop now features five

pre-recorded videos

to accompany class content and expands upon the processes and ideas of printmaking without a press. Pre-recorded videos include: drypoint, chine colle, viscosity printing, printing found materials, collagraph prints.
The class focus is on finding and refining your own personal vision using printmaking processes.
The new class dives deeper into processes that are covered in the pre-recorded videos with follow up discussions and advanced demonstrations in class.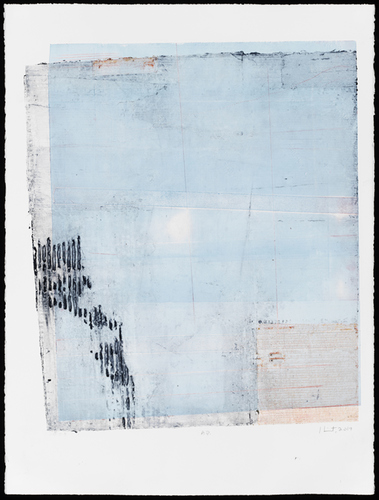 We will further explore:
drypoint on multiple plate surfaces

incorporates chine collage of various papers and materials

exploring found materials as printing surfaces

incorporating viscosity printing to achieve rich, complex color

collagraphy and plate building to reflect surface and structure

Maybe you have wanted to make prints and have held back because of not having access to a press. You have options and this class will cover alternatives that will open a range of possibilities for producing work. Perhaps you have a smaller press, but would like to make some oversized prints. This class will give you the knowledge to do so.
We will cover making multicolored images, mixed media printmaking, and alternative substrates for printing. If you are a painter, this is a perfect class for you. It will show you how to use painterly approaches that yield complex prints. The class will cover printing by hand using a barren or a spoon, an Akua Pin Press (optional), and a few common tools for applying pressure. Demonstrations will be given using Akua Intaglio ink.
The class is a live Zoom meeting and is recorded. A private group is designed for the class where the recording will be posted and students may ask questions and post work. You will watch the five short videos outside of class and we will use the information from the videos to expand upon class content during the class meetings.



November 2,9,16, 23 1:00-2:30 PM Central


$525
A short material list that maybe purchased through Blick or Takach Press
Materials:
(4) small pieces of plexiglass, PETG plastic plates or sintra (12" x16"-approx.)
Inks: Akua Intaglio: White, Black, Transparent Base, Hans Yellow, Crismson Red, Magenta, Prussian Blue. Akua liquid pigments: Blending medium, other Akua Liquid Pigment colors are optional.
1 small bottle of magnesium carbonate
1 small bottle of methyl celluose
One of the following: a wooden spoon, barren)
Tools to make marks: drypoint needle, a nail, tools that make marks on plexiplass
(3) 4" brayer (2 soft speedball brayers & 1 hard speedball brayer)
(2) small sheet (10" x 10" or larger) of glass or plexiglass sheet for holding your ink
(1) small 8 oz jar of matte medium or molding paste
(10) sheets of paper (any of the following Rives BFK, Stonehenge, Arches 88, Arches Cover, Rives Heavyweight, Rives Lightweight)
(2) sheets of Kitakata (16 x 20)
newsprint-50 sheets
(1) piece of mylar 20 x 20
several brushes between 1"-2"
(2) roll of paper towels
a pallete to mix your ink
Class cost $525
FULL
please contact me to be on the waitlist
Jeff's @jeffreyhirst.com